Click image for more information on the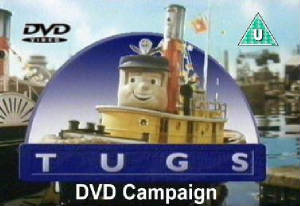 Welcome to Bigg City Port a dedicated to Tugs a Children's Television series that was set in the fictional harbour; Bigg City Port during the 1920s. It followed the highs and lows of the Star Fleet, frequently focusing on their Number 1 Tug Ten Cents. It all begins when Sunshine is brought in to help the Star Tugs with the extra work in the days when the Star Fleet were getting their first big break. During the course of the series we see various successes made by the Star Tugs over their rivals the Z-Stacks and other antics that take place in Bigg City Port. The two rival fleets even work together at times to overcome certain situations.
In many parts of the site I have used quotes from the series and links to content outside the site so to make the best use of the limited amount of web space available. Below is are two video clips; the first one made by Tachyon TV's Space Time Visualiser team. The second is a video of the opening titles, both videos are hosted by YouTube.

All you need to know about Tugs!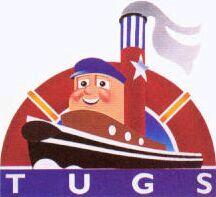 A Memorable Quote...
"Bigg City port never ceased working, operations carried out throughout the night were continued in the early mornings. Goods stacked high along the docksides were brought into port by road and by rail the lorries and wagons were then re loaded with cargo coming from incoming tramp steamers, ferries and liners for delivery to inland cities and towns. Everyone and every method of transport played a part in moving goods into and outfox the port. The work of our Tugs was an important link in the chain it was non-stop and round the clock. The lifeblood of the operation was coal. Without this dirty stuff industry would have ground to a halt..."
Captain Star, High Tide