Welcome to Bigg City Port, this website is dedicated to Tugs, the lesser known (and in my opinion better) sister series to Thomas the Tank Engine. Tugs was set in Bigg City Port during the 1920s, following the highs and lows of the anthropomorphic Star Fleet who were owned by Captain Star and their rivals the Z-Stacks, owned by Captain Zero. Meet the characters and discover what made this series so great.
In many parts of the site I have used quotes from the series and links to content outside the site so to make the best use of a limited amount of web space. Below is are two video clips; he first one made by Tachyon TV's Space Time Visualiser team. The second is a video of the opening titles, both videos are hosted by YouTube.
The aims of this website are;
1) To keep the memory of Tugs alive in conjunction with the Star Tugs Trust (STT) member sites by promoting the series and events.
2) To provide a hub and database enabling people to find out more about Tugs without giving away too many spoilers.
3) To show that there is still an appetite for Tugs and promote the Tugs DVD Campaign.
Tugs in Japanese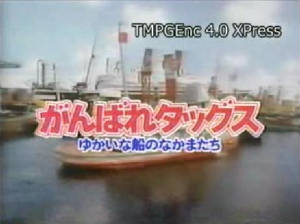 There were many language versions of Tugs as well as a redubbed American accented English version.
All you need to know about Tugs!
As mentioned in the above video TVS Television were struck by financial difficulties, these are best described by an essay entitled "the Franchise Battle" (
http://homepages.nildram.co.uk/~jamiebro/franbat.html
). The financial difficulties spread to Clearwater Features which in turn caused their liquidation. As a result the rights to Tugs dispersed and Tugs disappeared from our screens.
A Memorable Quote...
"Bigg City port never ceased working, operations carried out throughout the night were continued in the early mornings. Goods stacked high along the docksides were brought into port by road and by rail the lorries and wagons were then re loaded with cargo coming from incoming tramp steamers, ferries and liners for delivery to inland cities and towns. Everyone and every method of transport played a part in moving goods into and outfox the port. The work of our Tugs was an important link in the chain it was non-stop and round the clock. The lifeblood of the operation was coal. Without this dirty stuff industry would have ground to a halt..."
Captain Star, High Tide